It is worth taking the time to choose a wool rug because it is a product that will decorate your home not for several years or decades but a lifetime, and it may even be an item that will make your children happy and their children after them… This is not an exaggeration – especially with hand-woven rugs, it is true that they gain value over time and "know how to age." In the following article, we will guide you through the selection of a suitable carpet, answer your most common questions about wool carpets and introduce you to our basic range of wool carpets. Let's get started!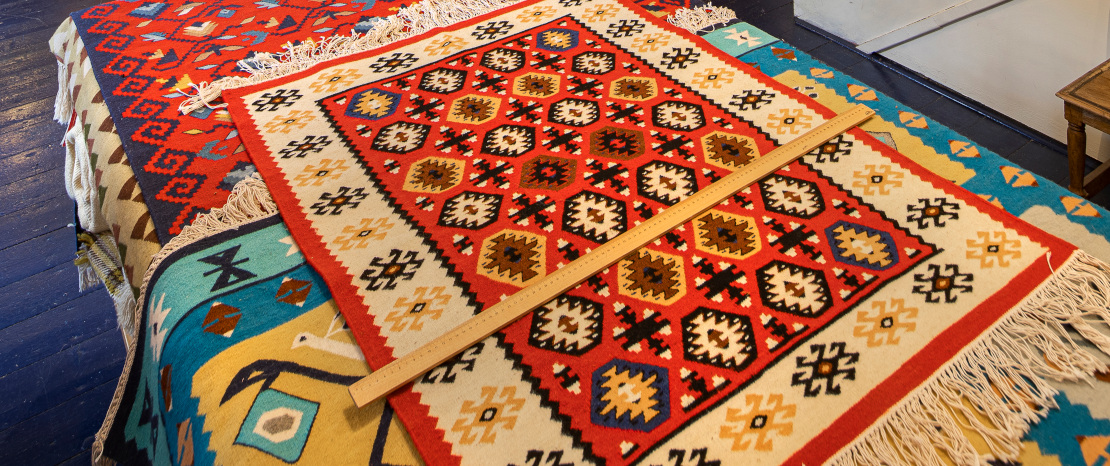 Which rug to put in the hallway and which one in the bedroom? High-pile or plain-woven?
The basic criterion for classifying wool carpets is whether they have a high pile or are plain woven. Plain woven carpets can withstand more stress and are therefore suitable for busy areas such as hallways. They're also more practical to maintain if they get dirty, and they're also far more resistant to being worn down.
In passageways, corridors, hallways, staircases, kitchens, and bathrooms, but also in children's rooms, runner rugs are most suitable. It doesn't have to be only elongated hallway and staircase fillings, we also produce runner rugs in classic dimensions of piece rugs. If you don't see one of these in our selection, we can get one made on request – exactly according to your needs, in the size and colors you want. We will produce and deliver it within two months. The other advantage of custom-ordered rugs is the price per square meter, which is the same as the price of the rugs we currently have in stock.
Another advantage of the runner rug is that it can be washed in the washing machine, if its size and weight allow, of course. Wash it on the wool program, and it will be as good as new again. And if you irreparably damage one side of the runner rug, wear it out, or get it dirty, simply turn it over. The carpet is reversible and will last twice as long!
Plain woven rugs
Our hand-woven kilims are another type of plain-woven rug. Due to their price, they are usually not placed in the most stressed areas. However, thanks to the bold colors and patterns, they are always one of a kind and will get a lot of attention in any space. It is, therefore, good to take into account that their expressiveness predestines them to dominate the interior.
Kilims are suitable for the main living area of the house, library, bedroom, study, or even the sunroom. We can adapt them to your requirements. We can make any kilim in the exact size, pattern, and color you need. We can also adapt the colors to your idea – the yarn for each kilim is dyed individually, and therefore we can even detect such small nuances as the difference between light and dark ochre shades.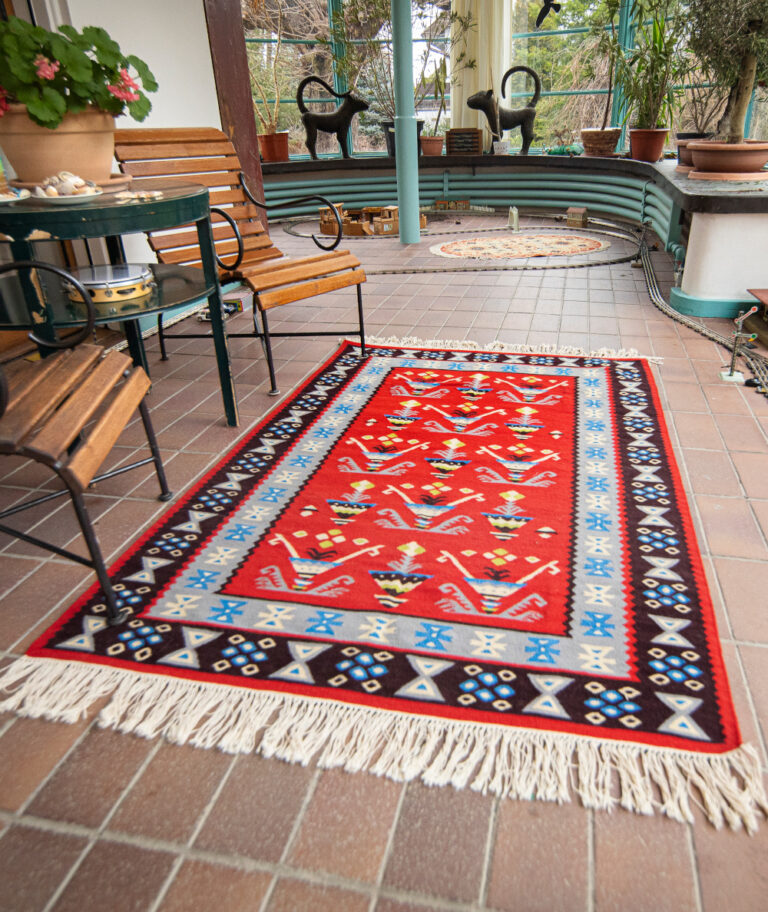 You can read about their illustrious history, which earned them a prominent place in European salons as early as the turn of the 19th and 20th centuries, here. Kilims, also known as the Pearl of the Balkans, are still exclusively handmade, from the dyeing of the yarn to the actual weaving. Believe it or not, it takes 10-14 days to weave one square meter of a kilim! Due to the density of the weaving, kilims are very durable and long-lasting. It is often stated that they can withstand 20 years of very heavy use on each side, as these are double-sided rugs as well. A total of 40 years of heavy use.
High-pile rugs
The counterparts to plain-woven kilims and runners are high-pile rugs. The pile length ranges from 3-5 cm (classic rug) to 20-25 cm (halishte).
Classic rugs with a final height of approx. 3 cm can be used in the living room, bedroom, and children's room. They can withstand heavy objects placed on them, and thanks to their higher weight, they hold well in place and do not shift, even without additional securing, e.g., with rubber pads. These rugs can also be used in a small format as a seat cushion on a chair or bench. We can also produce this type of carpet on request in the size and color you require.
Classic rugs are made from spun wool – specifically from pre-cut pieces of wool yarn, hand-tied into a wool warp. Threading the yarn tightly creates the impression of a mossy surface that is typical of classic rugs. This is the same production method used to bind Persian rugs and, in fact, they have quite a lot in common with them.
Guber is a lighter, machine-made, and thus also a more affordable variant of the classic rug. It is a lightweight rug made of unspun wool, which is woven into the warp on an automatic loom. The surface feels soft to the touch and looks like lamb fur, but don't be fooled. It is a woven shearling wool product, so no sheep had to die in its making. Its advantage over fur is its lightweight, which makes it easier to handle and maintain. The natural look will be appreciated by lovers of natural aesthetics, as well as pets for whom the guber can create a cozy bed.
The guber is very relaxing and can be used for yoga and meditation exercises. Due to the nature of the guber and its lightweight, we recommend its use in the bedroom or other less frequented and less-used rooms. The guber can also be used as a bedspread over a bed or divan or as a seat cushion. Thanks to its lightweight, you can wash it in the washing machine if it gets dirty, which is often impossible with other carpets.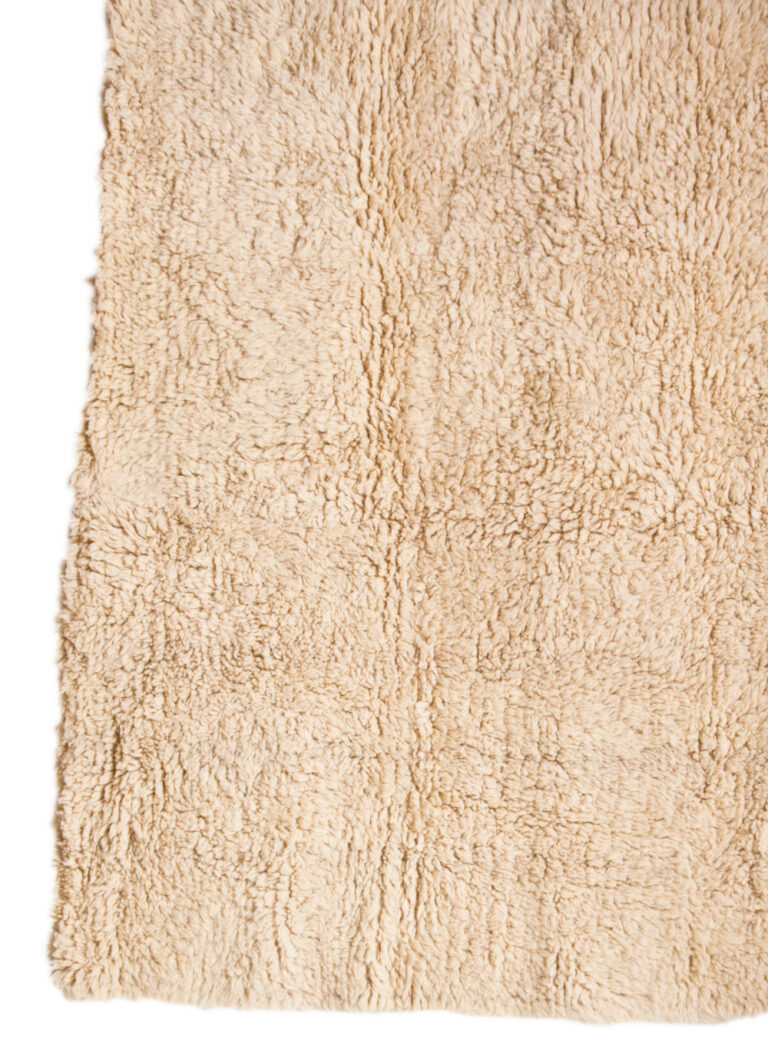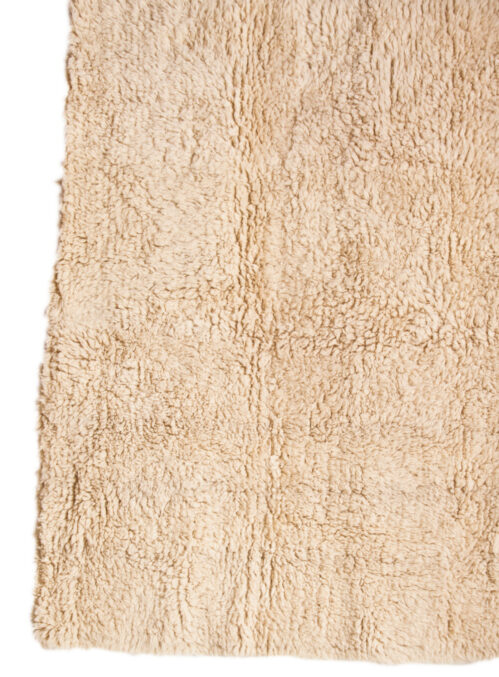 Unique among our rugs is the Rhodope hand-made halishte. It is best used in rooms designed for relaxation – bedrooms, living rooms, libraries, or in front of the fireplace. It has a distinctive look which, to a Central European eye not used to the Karakatsan wool from which it is made, may remind one of the coat of a large bos. Its natural elegance makes it suitable for a wide range of interiors – minimalist, retro, functionalist, or even Scandinavian. It is precisely from Scandinavia that we have a number of customers ordering halishtes.
It tends to become a dominant feature of the interior, which you should take into account when planning your house. The halishte has a higher weight, so it holds well in place. As well as being used on the floor, it can also be used as an original throw over a double bed or sofa. We will be happy to produce it in the size and color you require.
It is a very distinctive rug with an interesting history, which you can read about here. Even nowadays, it is made only by hand-weaving woolen piles up to 20-25 cm long into a woolen warp. The final height of the carpet is about 10 cm. It resembles fur in appearance, but again it is staple wool, so no animals died in the production process.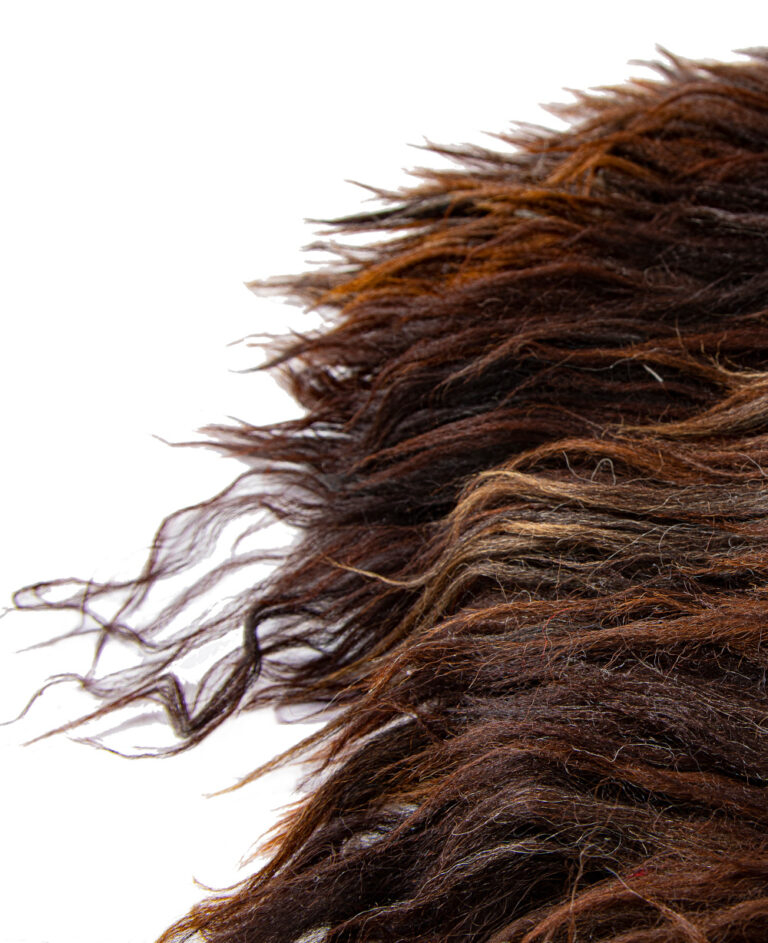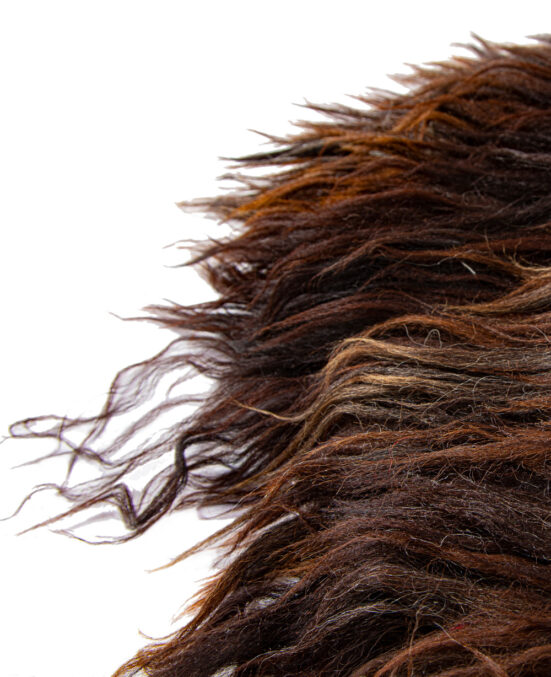 Natural or dyed?
In this case, it is purely a question of taste. All types of our rugs are available in natural undyed wool. If you like the natural look of a rug, you have a really wide selection. If you are after a colored rug, then you can choose between kilims, runners, and classic rugs.
In particular, the natural coloring of the halishte is what makes it so unique – each individual piece is an original, with shades ranging from pale white to amber, to shades of grey, grey-brown, chestnut-brown, to dark black wool on the surface of the halishte flowing in gentle waves…
However, when ordering a halishte on request, this is exactly what should be taken into account – even if we receive an order from you for a single-color rug in a light brown shade, the final impression will be predetermined by the currently available Karakatchan wool and will also reflect the talent and artistic abilities of the weaver who has bound your rug. In any case, it will be an original, one-of-a-kind rug.
We also produce undyed gubers in a natural light cream wool color. The natural tones also suit well to classic rugs, for which we usually have three shades in stock – light white-beige, grey-brown and dark brown. In these shades, single-color or multi-color rugs can be produced – typically in the ermine pattern. On the other hand, a coffee shade, for example, is achieved by using light and dark yarns at the same time. For classic rugs, we also have a wide range of colored yarns from which we can produce your rug.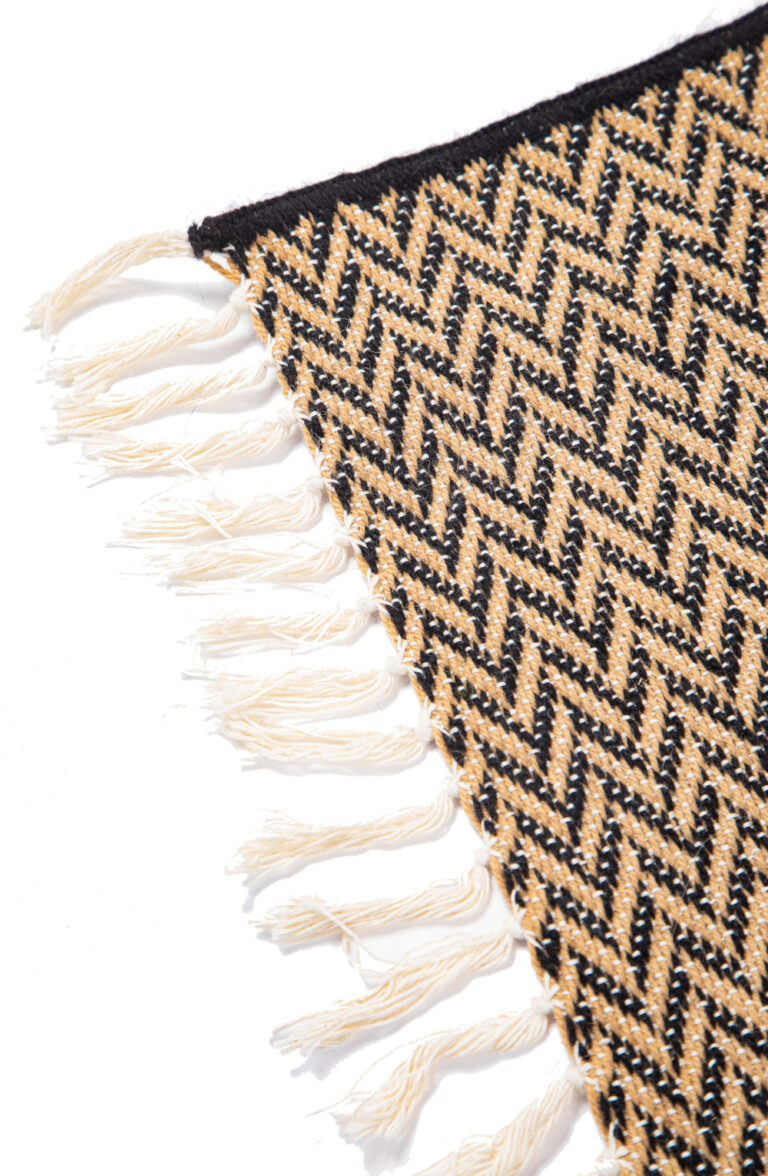 The runner rugs look amazing with their natural colors as well. In most cases, we offer single and multi-colored runners made only from natural yarns. However, the runners are best known for their bold colors or for combining different colored stripes. These rugs are based on the tradition of the colorful Bulgarian carpets called cherga, which are characterized by their distinctive multicolored stripes. Of course, more subtle color combinations can also be achieved, it is up to you and your specifications. We also have new geometric patterns among the runner rugs, which can be colored to match your interior.
Hand-woven kilims, which we make from natural undyed yarn as well as colored yarns, are a completely separate chapter. Bold colors are typical for kilims, and the patterns of kilims are very important for combining colored yarns. With traditional patterns, a color balance has been achieved over the centuries that makes it almost impossible to take our eyes off the kilim. However, if you have a different idea and want to color-match the kilim, this is no problem for us. Since kilims are woven by hand, there is no need to complexly reconfigure the automatic looms – everything is done on the fly during the actual weaving. We can customize the yarn shades down to the last detail. And we offer one more specialty for kilims – we can dye the yarn for your kilim from natural sources according to traditional recipes. The final impression of a naturally dyed kilim is slightly less brightness and color vibrancy – such a kilim seems to carry the natural patina of decades and beautifully balanced color combinations right from the start.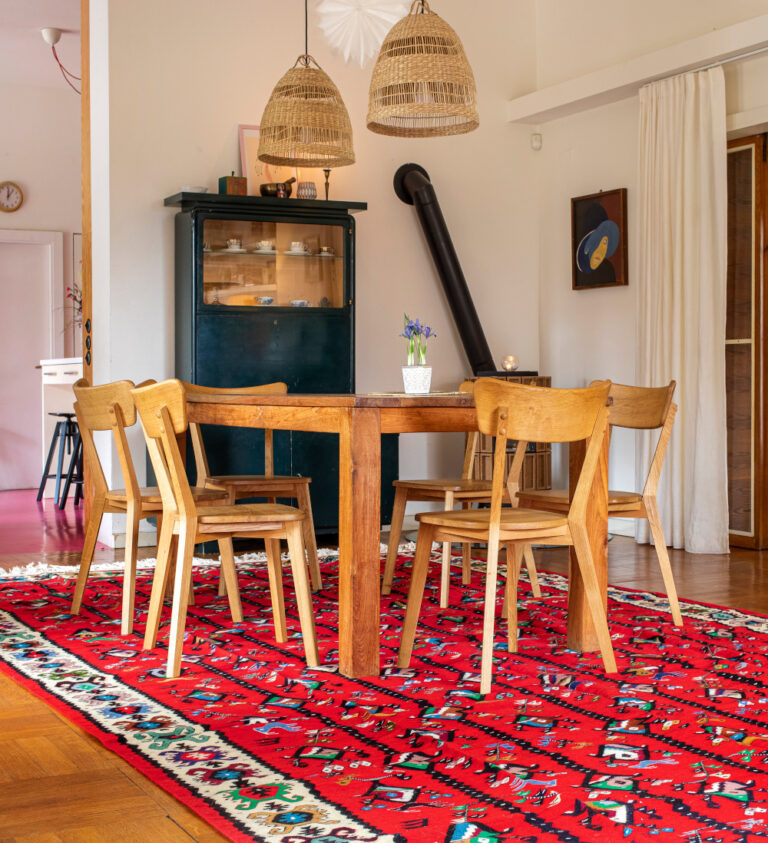 Hand-made or machine woven?
Unlike the previous category, this is completely about the price. Hand-weaving of kilims is extremely time-consuming. One square meter is woven by one weaver in 10-14 days with an average eight-hour work shift. It is logical that such time consumption must be reflected in the final price of the kilim. However, its value tends to increase over time, as the weaving of Bulgarian kilims from Stara Planina is listed as an intangible cultural asset under UNESCO protection, and each kilim is de facto a unique work of art. Kilim can thus serve well for saving spare funds.
It is a similar case with the Rhodope halishte. While its production is less time-consuming, it is still a manual binding. Each weaver involved in making them has years of experience and uses their creativity and talents to make them. With both kilims and halishte rugs, their production is a craft that has been handed down from generation to generation. The classic rugs are also made by hand, and it takes several days to tie an average rug, similar to a halishte. All the products in the hand-woven/bound category are of excellent quality and very long-lasting.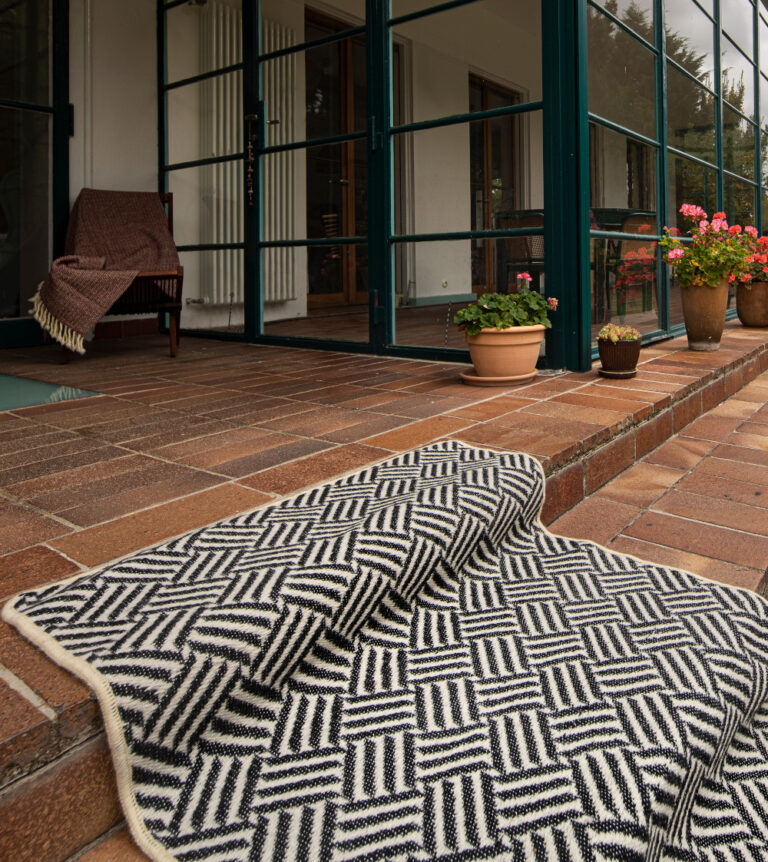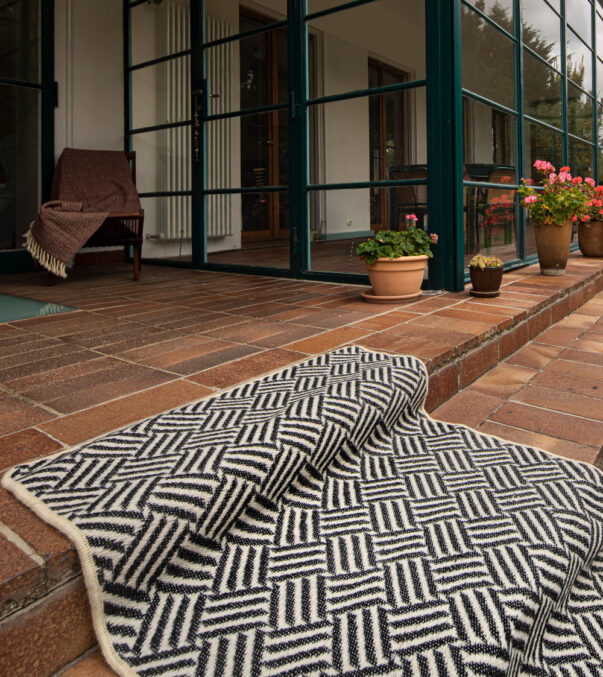 Machine-woven runner rugs and gubers, on the other hand, are characterized by their simple and time-saving production, which makes their price per square meter much more favorable. The price of a guber is a third of the price of its hand-knotted counterpart, the halishte. In the case of runner rugs, it is even only one-fifth the price of its plain-woven counterpart, kilim! Therefore, if you are looking for a low-cost solution, focus on runners and gubers. Furthermore, we recommend these machine-made carpets – especially runners – if you are looking for carpets for extremely stressed areas such as hallways, kitchens, or children's rooms.
We hope that this article helped you orientate yourself in the world of woolen blankets. If you choose adequately to your needs, considering the information above, we believe the blanket will serve you for decades. If you didn't find the information you are looking for, do not hesitate to contact us at info@balkanova.eco.