It is worth investing a bit of time into choosing a woolen blanket as it can become your lifetime companion. In this article we introduce the Balkanova blankets and we will help you navigate the variety of products offered.
Big or small?
Starting with size differences: a large amount of our blankets is the "classic blanket" size – that is 150×200 cm or its proximal variants. It is probably the most universal size with a variety of options of utilization – it can be used as a sofa or davenport cover, a plaid for wrapping up with a warm tea for a chilly evening reading session or as a rocker leg cover, in bedlinen the blanket can serve as a pleasant cover for sleeping. So in case you are looking for a versatile blanket, we recommend choosing the 150×200 cm sized one. You can find them in the Rodopa, Karandila, Kaliakra, Kostadina, Gergana, Abata, Perelika or Marina collections. In the two last-mentioned series, you will also find the plaid size 130×170 cm. The Marina and Perelika blankets in this medium size are thus a compromise between a classic blanket and baby blankets and will find application especially in the living room.
If choosing a blanket for your child, newborn or older, search in the Baby blankets category. We currently offer blankets in sizes 100×150 cm, 80×100 cm and 60×120 cm. Size 100×150 cm is compatible with the common children bed linen sizes. Feel free to use the blanket with no sheets as a cover for your child in the pram or as a travel blanket not only for your kid, but for an adult too. For example on a bus or train journey this blanket will serve you excellently, as it is always at hand and doesn't take up much space in your luggage. This includes the blankets Perelika, Kaliakra or Gergana baby.
We offer some of the blankets also in the newborn size 80x100cm – a classic for covering up the newest and smallest family member. And then there is a specific size – 60×120 cm. You can use this blanket as a child's mattress underlay. Unlike rubberized or plastic mattress pads the blanket is breathable. In addition to that, wool has water-resistant features which can protect the mattress from staining, smearing and in case of minor accidents. You can also maximize its imperviousness by using a detergent for woolen products containing lanolin. It's size is the same as the most common size of child's cot mattresses.
Regardless of their size, all non-dyed merino blankets have been tested by a certified laboratory of textile fibres. The laboratory stated that the blankets comply with the strict standards for marking the product as suited for children – meaning the merino blankets are certified as suitable for children from newborn to three years of age. All products made from the certified non-dyed merino are labelled with a symbol of a child's head with a "Certified for children under three years of age" legend which you will find on the website in the description of each blanket made from the certified merino.
We offer some of the blankets from the Rodopa and Karandila collections in larger sizes. The size is 200×200 cm, suitable as a double bed cover. Blankets of this size are heavier thanks to which they will keep their shape on the bed during the day. In the night you can either put the blanket aside or during winter months you can use it as a second layer. Our monochrome or subtle multicolour patterns will certainly complete the aesthetics of your calm sleep temple.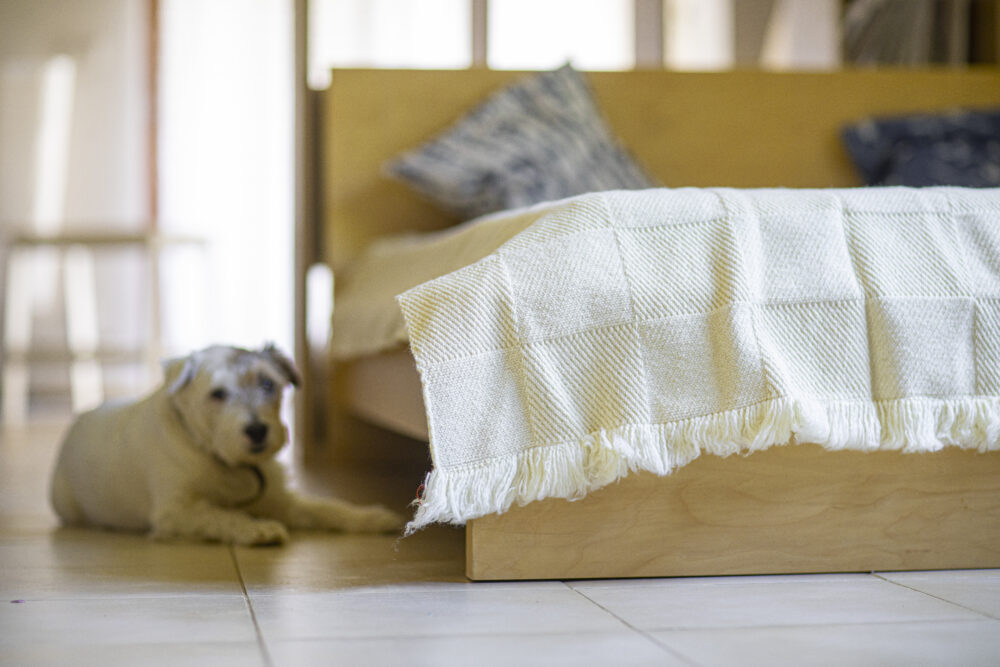 Inside or outside?
The size 160×220 cm is typical for blankets from the Rainbow collection which among other things also has an interesting background. However, most importantly it is good to know that Rainbow is a classic for outdoor use. Due to its higher weight the blanket is very warm – great for camping, even to be used instead of a sleeping bag all year round. The blanket is very robust with a long lifespan, it is firm and thanks to its felt surface it traps less organic impurities in nature. Bright colours and stripes are distinctive for blankets from the Rainbow collection which can work as a significant interior element – for example as a bed or couch cover. It is convenient to know that the Rainbow blankets also come in 160×240 cm and 160×270 cm sizes, so even the tallest ones will find their perfect match. Blankets in these larger sizes can also be used in forms of curtains – or more precisely impervious walls. It is a well known fact that wool is one of the best insulants and Rainbow with its typical density will serve well as a curtain or entryway – in fact, we ourselves use it this way in our store.
Among blankets suitable for outdoor activities there are also the traditional checkered Rodopa and Perelika blankets. They proved its long lifespan over the centuries – its quality endures generations. Thanks to their high grammage, blankets from the Rodopa collection along with the blankets from the Rainbow collection are the warmest blankets from our supplies. They are outdoor appropriate all year round. For the record, blankets from the Rodopa collection are a classic symbol for every mountain household in Bulgaria.
Rodopa will serve you outside all year, while her "sister" Perelika due to its lower grammage will come in handy during the spring/autumn seasons, for example as a plaid for chilly evenings on the terrace. Its colourful decor makes it an expressive living room accessory, couch cover etc. The other blankets, especially the ones made from merino wool, are due to their fibers sensitivity preferred to be used inside. Blankets from the Karandila collection are also more suitable for the interior due to the combed out surface.
Fringing or no fringing?
The Perelika blankets as well as the merino wool blankets from the Perelika Merino, Marina, Ledenika and Kostadina collections all have one thing in common – they are decorated with hand plaited and tied fringes each one being about 10 cm long. The Karandila and Rodopa type blankets also have these fringes, they are just a bit shorter and they're not plaited. On the contrary, the Rainbow and Gergana blankets are hemmed with a thick thread – this is called "entling". That's especially convenient if you want to put bed sheets on them and use them as a duvet. Blankets with no fringing (Gergana) or short fringing (Rodopa) fit better in the sheets and keep their shape. If you're looking for a sleeping blanket that can be used with bed linen, for practical reasons, we recommend choosing a blanket with no fringes, fringes reversely accentuate the blanket's typical appearance and its decorative role in the household.
Soft or rustic? And what does that actually mean?
The wool's fineness can be assessed in different ways. Discerning if the blanket is smooth to the touch or not is to some extent a subjective sensation. Whatever one finds pleasant the other one can dislike. And the same goes for wool. For easier orientation the fineness of each blanket is indicated by one of five grades from the rough ones to the softest ones: "rustic" – "classic" – "soft" – "very soft" – "ultra soft".
If you are among those who prefer smooth materials and you still want a woolen blanket, we recommend choosing a blanket marked as either very soft or extra soft. The ones marked as "very soft"- like all our merino blankets – are indeed greatly smooth – comparable to cotton. All blankets from the Perelika Merino, Kostadina, Marina, Kaliakra, Ledenika and Rodopa Merino collections are really soft and can be used by kids. Especially the Gergana blanket given the applied merino and felt surface is even softer than all the other merino blankets. With personal experience we attested that our merino blankets can be used by children from the time they are born. With kids growing up and needs changing, we upgrade the supplies. That is how a new Gergana blanket in the size 60 x 120 cm (used as a mattress pad) ended up in our range – at the explicit request of our "mother" customers.
In the category of ultra soft blankets, you will find merino blankets from the Perelika Merino and Marina series, which are even softer than our classic merino blankets. How is it possible? Merino blankets, included in the category of very fine blankets, are made of merino yarn with a wool fiber thickness of 25 microns. Merino blankets in the ultra soft category are made of merino with a thickness of only 21 microns. There is a direct correlation between the thickness of the fiber and the softness of the resulting material. The weaker the thread, the softer the blanket. In real terms, this is a similar difference as between cotton and silk. So it really is the pinnacle of finesse!

The other three out of four grades mark blankets that are primarily made from local Bulgarian wool that is characterised by a thicker thread (measured in microns). The thicker the thread, the coarser the wool. The surface treatment also comes into the equation – with this it is possible to make the blanket soft to touch almost to the level of merino blankets fineness. That goes for example for our interior Karandila blankets with combed out surfaces which feel really soft to touch (on our scale these are marked as "soft").
Generally speaking, blankets made from soft materials or blankets with soft surfaces are more delicate. The resistant blankets that endure even extreme conditions or outdoor use are by definition coarser (on our scale marked as "classic" or "rustic"), but even they get softer with time and usage. This process can be sped up by washing the blanket following the maintenance instructions. So you can achieve softening the surface even of these more rustic blankets without damaging the blankets density and sturdiness.
Natural or coloured?
Basically all the blankets in shades of white, cream, ivory or amber as well as blankets in different shades of brown and grey are made from non-dyed wool. If you're a fan of natural design then these blankets will probably be the best choice for you. Those made of non-dyed wool only (Rodopa, Karandila, Abata, Perelika etc.) on the website you will find marked with a "Made of natural non-dyed wool" symbol. Other blankets from the menu are also made of non-dyed yarn – usually white, grey or brown and they can be used as a foundation colour and in some cases make up more than 80% of the material. Because these blankets also contain coloured yarn we don't mark them with the above mentioned symbol. Blankets made from non-dyed yarn can smell like wool in the beginning – that is sheep fat lanolin. That is a natural feature indicating the quality and the nature of the material. With time the lanolin aroma wears off, however, if you don't like the smell, this process can be sped up by washing the blanket following the maintenance instructions. Most of our blankets are made of wool which has been cleaned only mechanically without carbonation (sulphuric acid cleaning treatment) and without the use of detergents. This way they maintain most of their natural features which have been a value for humans since forever.
We hope that this article helped you orientate yourself in the world of woolen blankets. If you choose adequately to your needs with considering the information above, we believe the blanket will serve you for decades. In case you didn't find an information you are looking for, do not hesitate to contact us at info@balkanova.eco.